In a very good way!!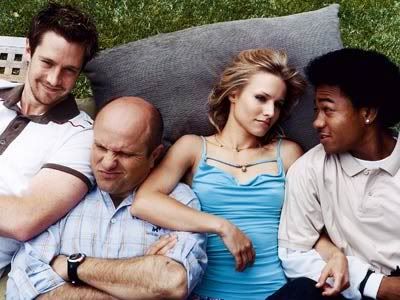 The following is from Kristin Veitch from the E network:
Unless you've been living under a rock recently, you've probably heard that
Veronica Mars—at least in its TV version—is officially dead. The CW has
decided
not to pick it up for a fourth season.
But I have a shining,
bedazzly silver
lining for you fans: Miss Mars' story may live on as a comic
book or as a
feature film (we'll get to that). And, breaking news! VM
mastermind Rob Thomas
has just confirmed to me exclusively that he's
stepping in as executive producer
of the new comedy Miss/Guided, so we'll
still get to see his work on the small
screen this coming TV season. Hurrah!
"I'm the new show runner on
Miss/Guided, the Judy Greer half-hour
midseason for ABC," Rob tells me. "Judy
plays a high school counselor who
has returned to the high school she attended
as a student. It was created by
a talented first-year Office writer named
Caroline Williams."
As I
mentioned in my liveblog from ABC's upfront
presentation in New York,
Miss/Guided looks to be adorable, witty and funny, and
I can only imagine
that with Thomas on board, it will become an instant fave
among us VM fans.
As for Veronica Mars, Thomas tells me: "I think the best
odds for seeing
the continuation of the Veronica Mars story is in comic-book
form. I had a
meeting with DC Comics last week. They want to do the series. I
want to do
the series. It's just a matter of making a deal and figuring out when
I have
the time to write it. And perhaps a feature screenplay will follow."
Please
oh please oh please?
Anyway, congrats, R.T.! Or actually, I
should
probably be congratulating ABC instead. They've just inherited one of the
finest TV-makin' minds of all time.